Development and Production Systems
Development and Production Systems
Our Services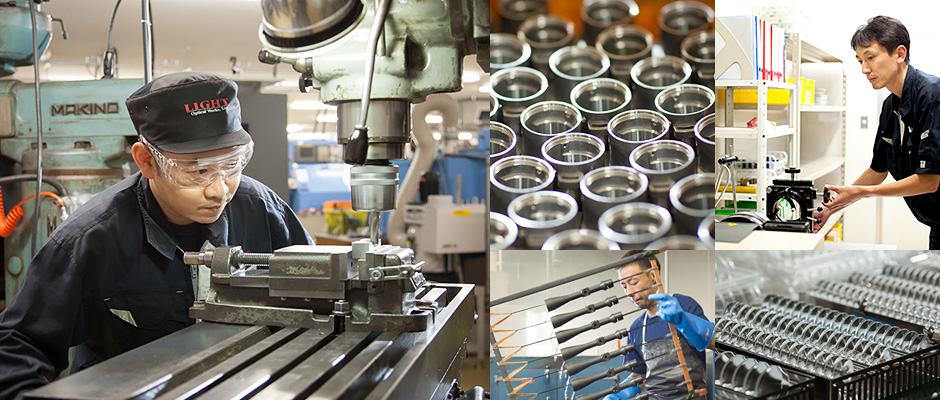 We develop binoculars, Riflescopes and other optical instruments, undertake commissioned design of such products, and supply them under customers' brands (OEM).
We offer sales of spare parts, and repair contract services, for products we have supplied.
We provide all-in-one lens and hardware production encompassing all aspects from design, trial production and precision cutting of lenses and prisms through to:
alumite processing (hard/super-hard), MC sculpting and laser-marking.
We undertake commissioned fabrication or procurement of packaging materials, presentation boxes, manuals, etc. (please provide printing data)
All of the above can be accommodated in any production quantity from small to large.
Design and Development
Optical Design
By fusing our experience from several thousand cases of development with the latest optical design techniques, we are able to respond to a wide range of design needs, from our own original ultra-high performance optical design, to design according to customer's specification.
Mechanism Design
We carry out micron-precision design. We pride ourselves on being able to achieve a robust design despite the intricacy and delicacy of the mechanism - an ability that comes from long years of experience. A diversity of requirements can be handled from our own original design conforming to the customer's preferences.

Production Management
We employ a unique ERP system to deploy production planning from order reception onward, and to implement rigorous delivery schedule management right up to shipment.

Lens Polishing
Polishing production technology able to appropriately accommodate daily variation in air temperature, humidity and other ambient conditions. Our high-precision lens manufacturing uses the latest polishing technology and exploits build up over a track record spanning more than 50 years.

Machining
In riflescope manufacturing, in order to sustain the extremely large shock at firing, micron-precision machining is required. The principal parts in our products are machined in-house, so we can achieve difficult complex forms and also keep a high precision level.

Anodizing
We offer the coating of aluminum components by anodizing at our facility to maintain both toughness to endure in severe use and beautiful cosmetic appearance. A choice of color and type of finish is also available.

Assembly Line
All our products are assembled in clean rooms by skilled personnel. Some of them with over 40 years' experience and turn out products efficiently and of stable quality.
Quality Assurance System
All the components we use in production have to satisfy stringent criteria at the incoming inspection. During assembly, the products must pass a mid-point inspection and at the end of production a final inspection. It is only when the requirements of this strict control system have been met that the products will finally be delivered to customers.